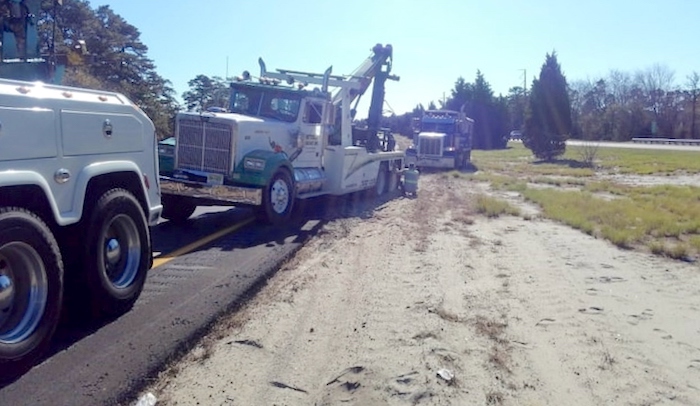 By Jim "Buck" Sorrenti
Battelini's Garage Inc. in Landisville, New Jersey, has been in business for more than 95 years. Alesio Battelini started Battelini's in 1921. Albert Battelini is the president of the company; he co-owns it with his brother Anthony and their father Dominick. This family owned and operated business is going on their fourth generation.
Recently, they received a call to recover a heavily laden tri-axle dump truck.
Battelini said, "At 10 in the morning on November 4, 2019, we got called by a long-time customer. The customer explained that their tri-axle dump, loaded with 73,000 pounds of sand, was stuck on Route 55 southbound in Vineland, New Jersey."
He responded with Unit 8212, his Ole12 wrecker. Ole12 is a 1982 Western Star/1986 3500 NRC heavy. The NRC unit is a 40-ton unit with a three-stage fixed boom and a 35,000-lbs. under reach. It also has a 60,000-lbs. Braden drag winch.
Operator Lou Roberson responded in their 2015 Peterbilt/NRC 40CS 40-ton. This unit, with NRC's sliding system, handles both towing and recovery duties for Battelini's.
"When we arrived on scene," Battelini said, "we found the loaded tri-axle in the median with its driver's side tandems stuck in the sand."
Battelini staged Ole12 with its business end back to the nose of the stuck dump and Lou positioned the NRC 40CS in front of Ole12.
"We used Ole12 to winch the dump out 100 feet onto roadway," Battelini said. "Using Ole12 and the 60,000-pound drag winch with 2-1/2 inch grade 100 chains to the front tow pins. We just had the NRC 40CS there for standby in case Ole12 wouldn't plant, but it did."
With Battelini at the controls, crouched down with his eyes on the stuck dump, he steadily pulled it out of the sand.
"We left the tri-axle in neutral and pulled it with Ole12. If we were to try letting the tri-axle help us, I felt it would have made it worse by spinning himself down and breaking the driveline."
Once the dump was back on solid ground it was able to continue on its way.
Show Yours @ TIWDo you have a recovery to share with TIW readers? Send some pics and info to our Field Editor Jim "Buck" Sorrenti at jimchaos69@yahoo.com; your story may even be selected for print in American Towman magazine!