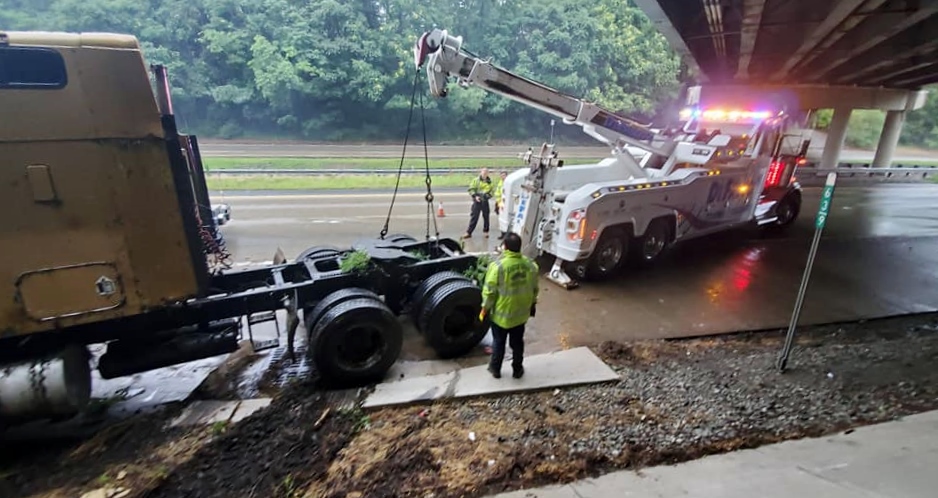 By Jim "Buck" Sorrenti
William "Bill" R. Rempfer Sr. and his wife, Cheryl, opened DeFalco's Automotive and Towing in Chatham, New Jersey, in 1994. Bill passed away in 2016, but Cheryl and sons, William "Bill" Jr. and Adam carry on the family owned and operated business.
At 4 a.m. on July 23, 2017, DeFalco's received a call from the New Jersey State Police requesting they respond to Route 287 N. in Mahwah to deal with a rolled over sleeper tractor.
DeFalco's responded with its recovery team and equipment. Bill Jr. served as the scene supervisor on this job. Adam responded with their 2016 Kenworth T800/50-ton NRC 4050 CSR rotator. Operator Ryan Condit was in the 2019 Ford F-550/19' Chevron flatbed; operator Rolando Ramirez in a 2014 Kenworth T800 tandem/NRC 40-ton CSR; and operator Hector Ramirez was in the 1994 International 4300 Emergency Response Unit.
The sleeper tractor had rolled over several times, creating a large debris field with a large fluid spill.
"Upon arrival we discovered that the bobtail tractor had spun out and overturned into the woods coming to rest on an embankment," Adam said. "The right-side diesel tank was ruptured and leaking fuel onto the roadway."
Members of DeFalco's recovery team contained the spill and proceeded to pump out the diesel tanks to ensure no more spillage.
"We rigged the tractor with two rim slings through the rims, lifted and slid controlled down embankment to the rear of the tow truck in order to be hooked and prepared for a tow from the rear," said Adam. "Once the casualty was moved, all debris and fluid were cleaned and inspected by Hazmat."
The casualty was towed from the rear by the NRC 40 CSR to DeFalco's towing yard in Chatham.
Show Yours @ TIW
Do you have a recovery to share with TIW readers? Send some pics and info to our Field Editor Jim "Buck" Sorrenti at
jimchaos69@yahoo.com
; your story may even be selected for print in American Towman magazine!