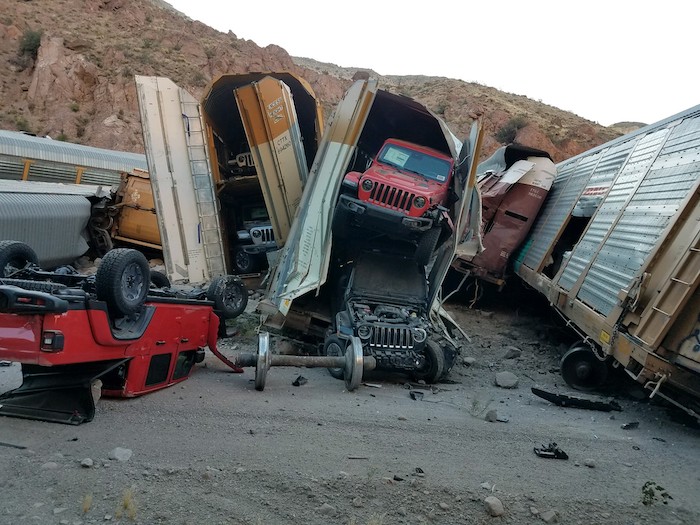 By Jim "Buck" Sorrenti
Drew Ribar runs A&A Towing in Reno, Nevada, the company his dad, Joseph "Joe" Ribar, started in 2006. Drew grew up in the business.
Joe has been semi-retired the last decade after building businesses most of his life. Drew took over running A&A Towing after closing two other family operations.
"My dad has been in automotive businesses since he returned home from the Vietnam war," Drew said. "I have been around towing and automotive all of my life. I towed my first vehicle for a customer when I was 16."
Starting with a couple of trucks, A&A Towing has grown to a much larger fleet that services all of Nevada's major population centers in Reno, Carson City and Las Vegas.
A train carrying vehicles derailed on the morning of July 10 in a remote part of Lincoln County northeast of Las Vegas. The derailment occurred at around 9 a.m., several miles south of Caliente, a town about 30 miles from the Nevada-Utah border.
About 33 Union Pacific train cars, carrying mostly brand-new Jeeps and pickup trucks, derailed down Rainbow Canyon, with some of the cars falling onto the county road. It was reported that some of the train cars had been hauling hazardous material; but those cars weren't affected in the crash. No hazardous materials were spilled, no one was hurt in the derailment and the cause has not been reported as of press time.
A&A Towing handled the massive cleanup.
"We got this derailment cleanup job through one of my guys (Shaq) that also works security for Union Pacific," Drew said. "We used seven flatbeds on this job. A mixture of Miller and Jerr-Dan equipment mounted on KWs, Petes and Freightliner."
Drew and crew also brought along his 2017 Dodge 4x4 with a Jerr-Dan MPL40 to bring the vehicles up to where the flatbeds could load them. The railroad removed the vehicles from the rail cars using bulldozers and excavators, then set them for the Dodge 4x4 MPL40 to move to the staging area.
"The area we were working was very remote," Drew said, "about a 3-1/2-hour drive through the desert outside of Las Vegas. To try and keep up with my existing business, we had some of my people come to Las Vegas out of our Reno location. It took a week of work to move the wrecked cars back to the Union Pacific yard in Vegas from the wreck site."
Drew explained logistic strategy was key in this cleanup.
"We ran 11 guys operating the trucks, rotating them in and out to give everyone enough rest," he said. "My Reno manager, Joshua Rivard, my Vegas manager, Victor Maldonado, and especially my wife, Holly Ribar, put in a tremendous number of hours working out the logistics to keep the drivers and trucks moving to clean up this huge accident. Patrick Bock ran the recovery for Union Pacific."
Union Pacific was investigating the incident and was expected to turn over its results to the Federal Railroad Administration.
Show Yours @ TIWDo you have a recovery to share with TIW readers? Send some pics and info to our Field Editor Jim "Buck" Sorrenti at jimchaos69@yahoo.com; your story may even be selected for print in American Towman magazine!