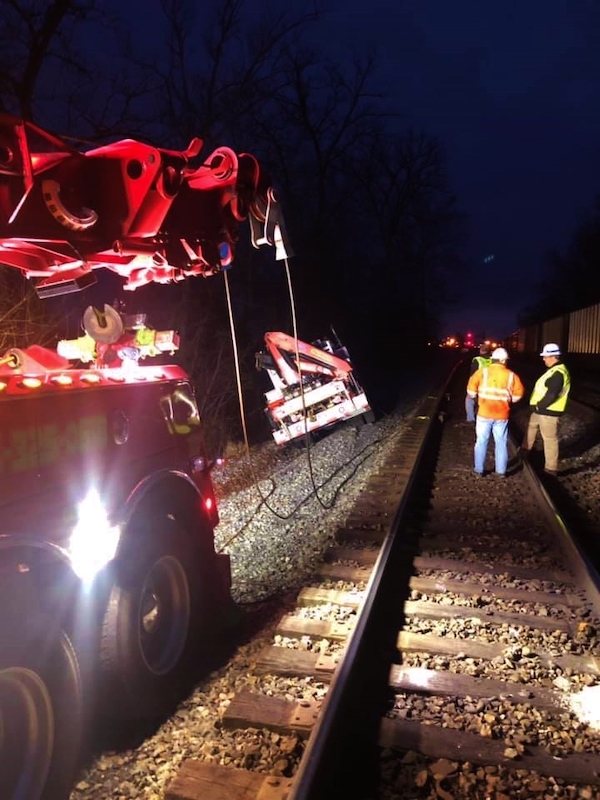 By Jim "Buck" Sorrenti
McGuire's Towing & Recovery in Ashland, Kentucky, is a family-owned and operated business started by Michael and Barbara McGuire in October 1988. They now co-own the business with sons Sam and Steven.
On February 21, 2019, McGuire's received a call to recover a railroad truck.
"At 5 p.m.," Sam said, "we were called for a Freightliner railroad truck that had gone down beside the tracks and slid over the hill towards the river in Russell, Kentucky, just outside of Ashland."
The driver of the railroad truck initially made the call to McGuire's office for a quicker response to the scene.
"Our dispatcher advised him she would get a truck headed that way," Sam said, "and the driver, in the meantime, called his fleet service and advised them of the situation and that he had contacted us."
Sam and Steven, both WreckMaster 6/7s, responded. Sam with his 2018 Peterbilt/Century 1150 50-ton rotator and Steven in their 2018 Dodge 5500/Century 2465 medium-duty to assist. The 2465 is equipped with twin 12,000-lbs. planetary winches. Once on scene they assessed the situation.
"When we arrived," Sam said, "we saw the driver had tied his truck off to the tracks to prevent it from sliding over any further. We looked the situation over and came up with a plan."
There was no way for the brothers to get a second truck in front of the casualty, so they had a track inspector and the yard master respond to the scene and told them how they planned to recover the casualty.
"Our plan was to run the drag winch to the front end by using a 4x6 placed on the inside of the tracks with a chain wrapped around the wood pulling on three plates holding the tracks in place," Sam said. "We also did the same thing to the rear of the truck with one line off of the boom. The third line from the boom ran to the rear of the casualty to winch backwards.
"As the truck began to come back," he said, "we would winch it sideways to come up the bank. We moved the rotator up and proceeded with this process again until we reached the hard packed ballast (rock) on the rail bed."
After the casualty was freed, the yard master and track inspector examined the tracks and gave Sam and Steven the all-clear. Total time on scene was two hours and the driver was able to drive the casualty back to his fleet office.
Show Yours @ TIWDo you have a recovery to share with TIW readers? Send some pics and info to our Field Editor Jim "Buck" Sorrenti at jimchaos69@yahoo.com; your story may even be selected for print in American Towman magazine!